This gorgeous antique vestment was purchased by Fr. Garrett O'Brien sometime after his ordainment into the Catholic priesthood. The day I received Fr. Garrett's phone call, I happened to be between projects and his request was quite unusual and interesting. I love a challenge so I was intrigued with the opportunity. He was seeking someone to recreate missing elements of his antique vestment, which he planned to gift another young priest at his ordainment the following year. He happened to be in the vicinity of my studio so I decided to meet with him at once. It would be the beginning of my friendship with a very young priest with very good taste in antique vestments.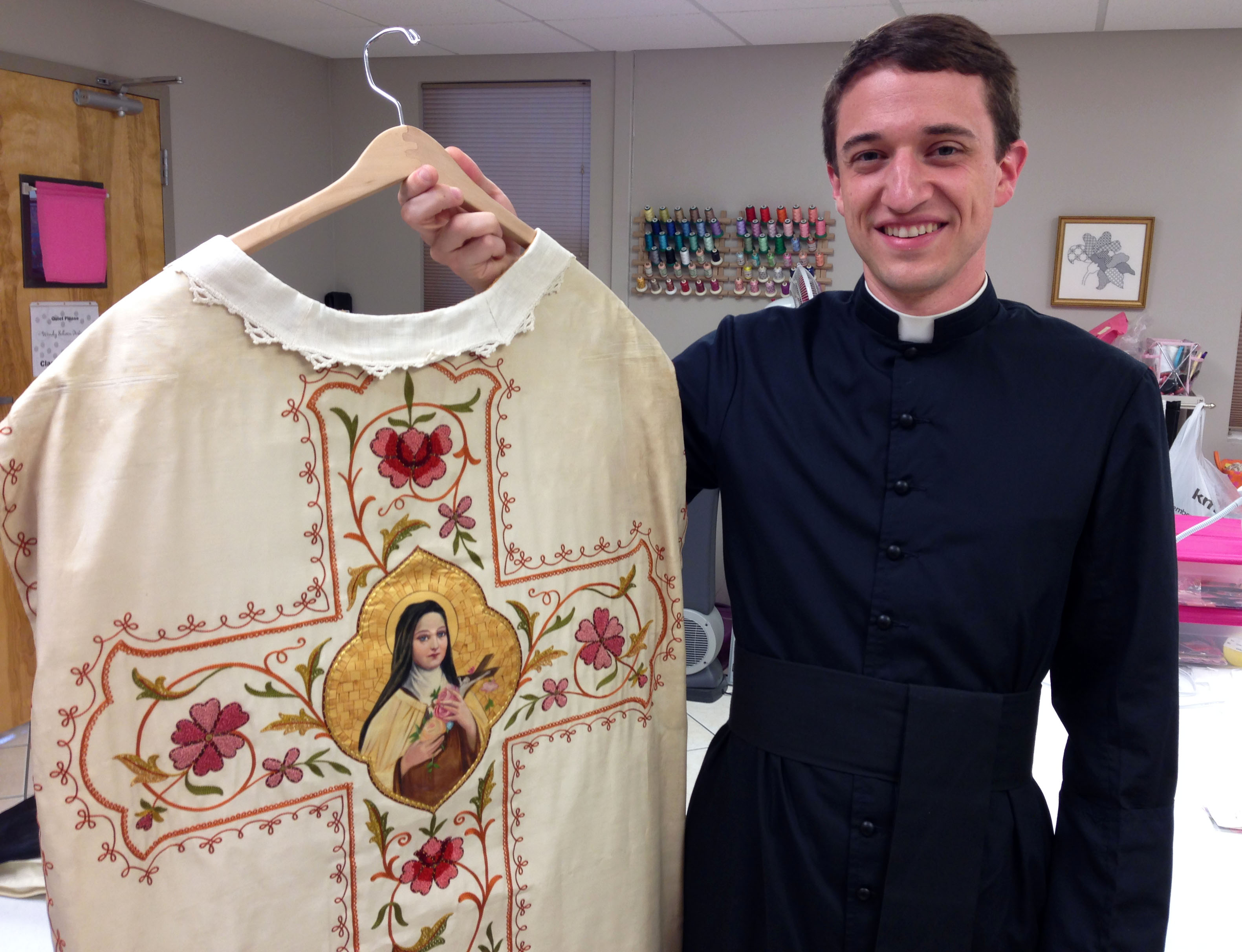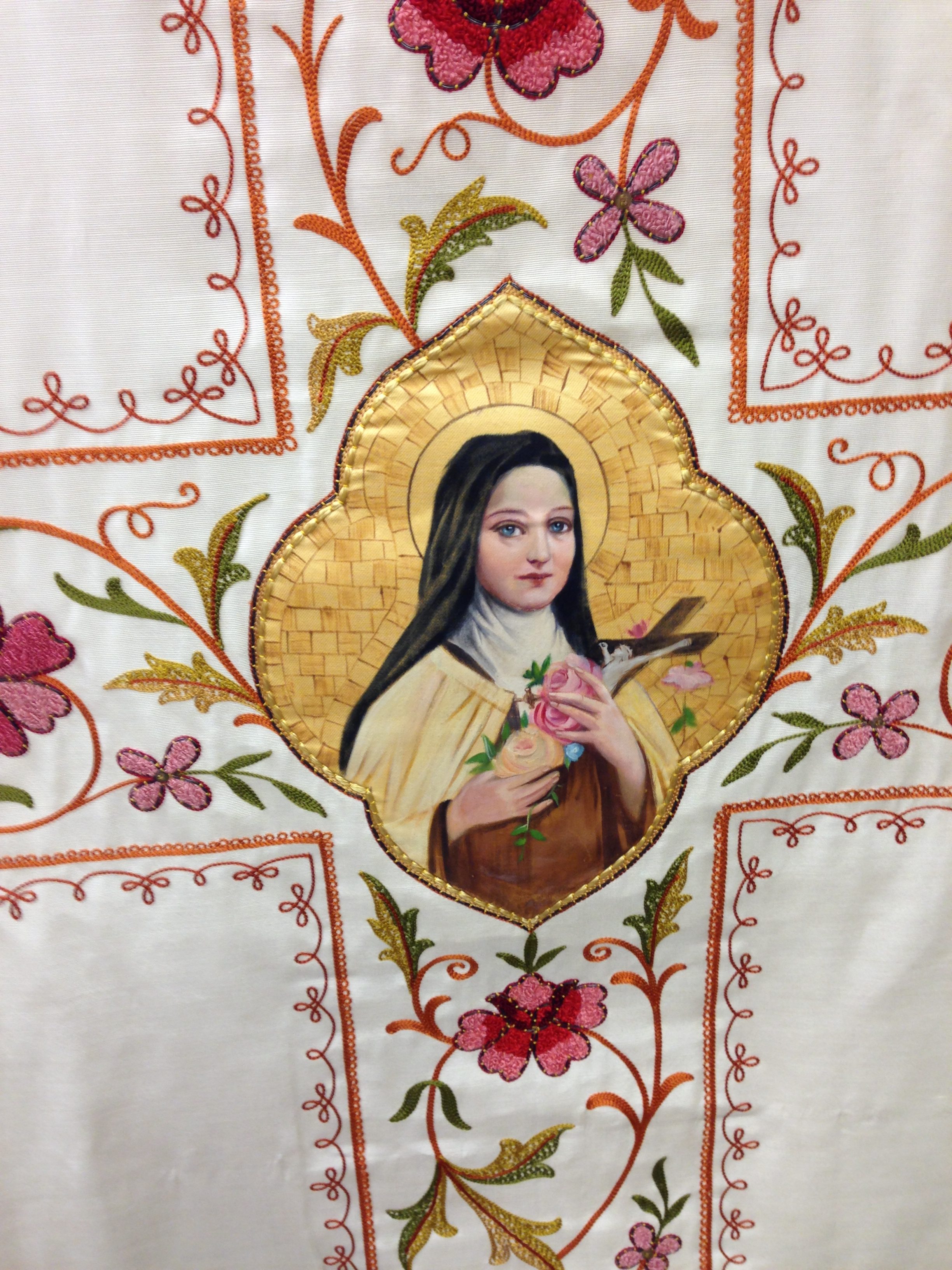 As it turned out, I was recommended to Fr. Garrett by someone from my church in downtown New Orleans. Word travels quickly in New Orleans, a place of undeniable heritage and intrigue. In other words, everybody knows everybody and I suspect he just happened to speak to the one person who knew of me. He was seeking someone to recreate the missing elements of the vestment ensemble for his friend and given I had almost a full year to complete it, I readily accepted the commission. At last, the opportunity to utilize the skills I learned while achieving a Certificate from the Royal School of Needlework in London.
The elements he was missing was a burse, which purpose is to protect the hosts while in the chalice, and the shall, which is laid over the burse, much like a small square tablecloth. The design was taken from the piece that the priest drapes over his arm and was made to match the embroidery on the vestment. The embroidery was done in three colors and was stitched in Beauvais stitch, or chain stitch. The challenge was to find the appropriate fabric and the exact color threads so the reproduction pieces would match the originals to exacting specifications.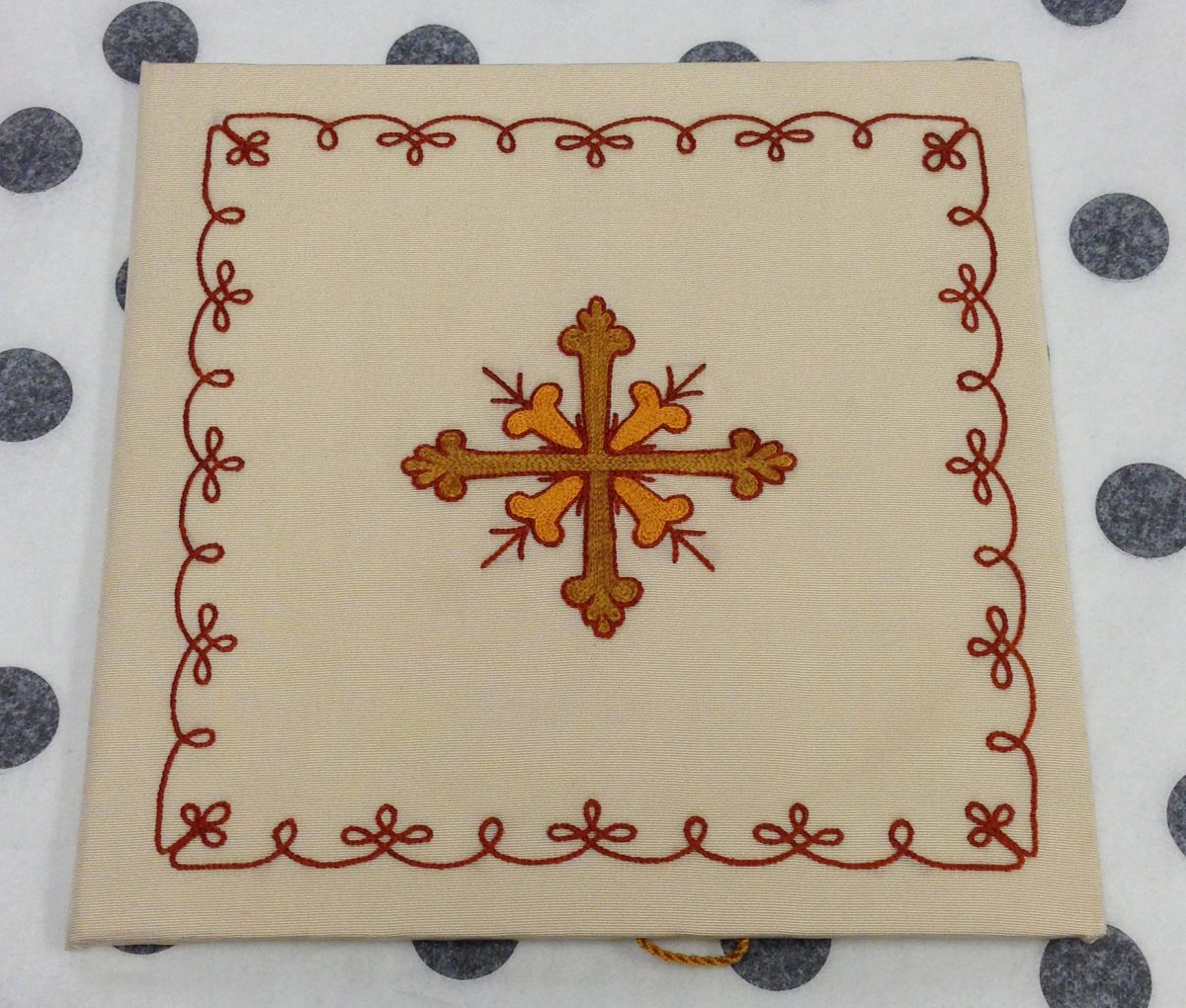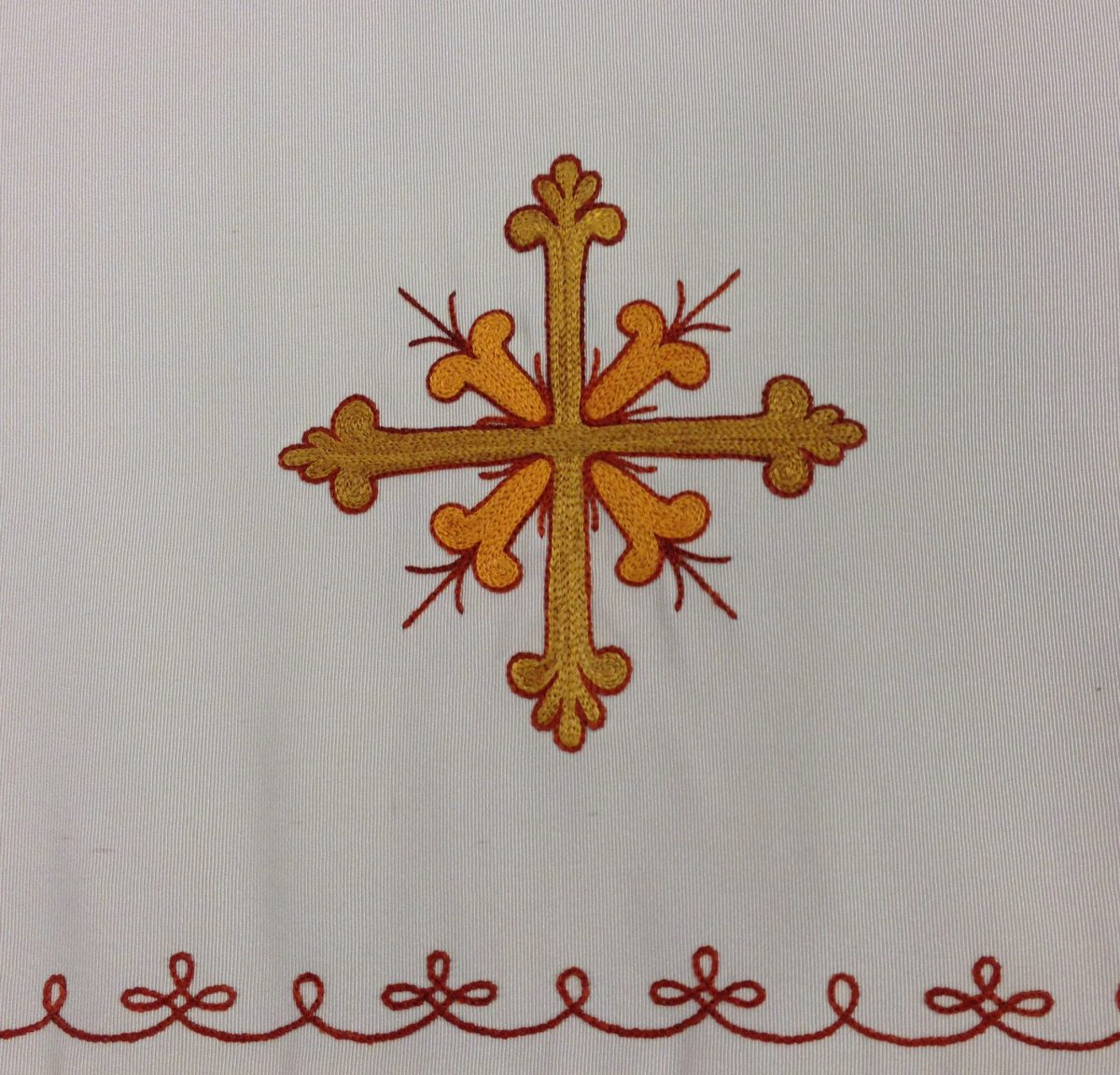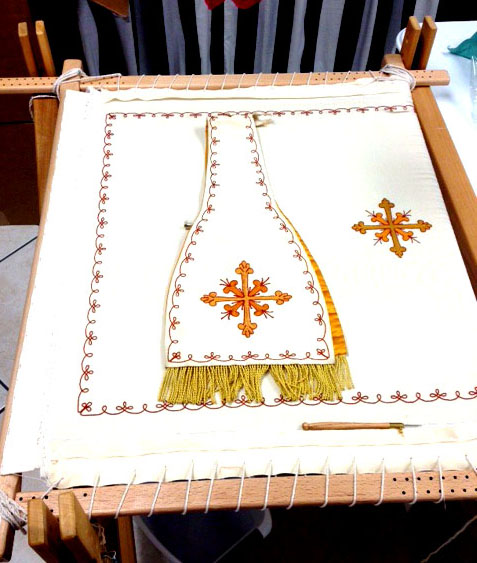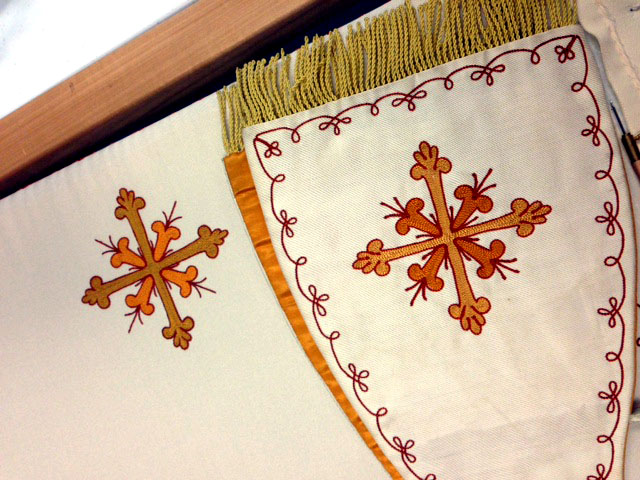 The fabric was easy to find, but imported faille is quite costly and most important to the work. Finding the thread proved much more difficult. It seemed there never was a thread made to match these three colors in shade, intensity, and weight. I finally decided to use silk thread, which matched the antique almost exactly. And I decided to use my slate frame and trestle stands rather than hoop. I determined to try my hand at Tambour stitching, which would have been the best application of this work, but that darn needle was tricky and I didn't have time for the "learning curve" which was required to become proficient at the art. I settled on using a hand needle with a bit of bee's wax to tame the fibers slightly and darken the color a bit for a more pleasing match.
I worked diligently on the project between other projects and teaching jobs and finally, it was done in time for the newly ordained priest and my friend, Fr. Garrett O'Brien.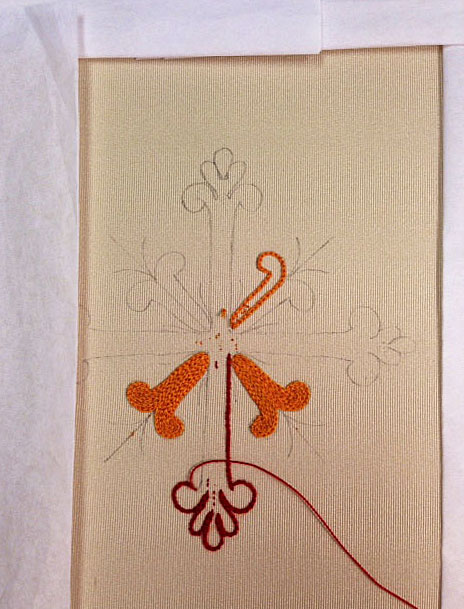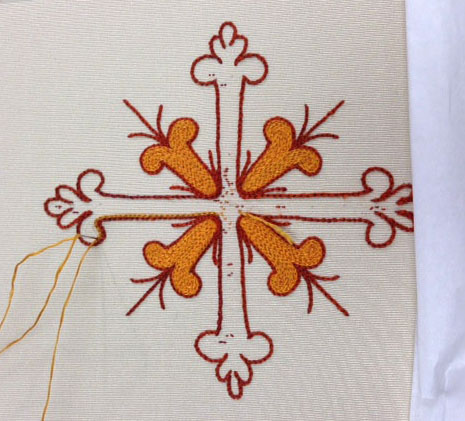 If you have an antique garment you wish to have restored, please inquire via email. I am open to complying within your budgetary requirements. Please allow ample time to complete the project. wendschoen@aol.com